Justin Bieber donates $100K to a fan who works in mental health
The first concert Julie Coker saw featured the 'Intentions' singer
Pop sensation Justin Bieber may have made his comeback last month, but he is following up on his music promotion with a little philanthropy, according to the New York Post.
The 25-year-old celeb wrote a check for $100,000 during his Friday appearance on MTV's "Fresh Out Live," which he donated to a fan who works in mental health awareness.
JUSTIN BIEBER FIGHTS 'INCURABLE' DISEASE AS HE MOUNTS COMEBACK
The surprise contribution was given to Julie Coker of Monmouth County, New Jersey, after the premiere of Bieber's new "Intentions" music video, featuring rapper Quavo and three former residents of the Los Angeles-based transitional program Alexandria's House.
During the segment, participants learned a Bieber concert was the first one Coker attended at age 13. She told the New York Post that she gravitated toward mental health work because of her own past struggles.
JUSTIN BIEBER CEMENTS INSTAGRAM'S REP AS REAL ESTATE AGENT
"It's important for us to talk about mental health because more than 50 percent of us will have a mental health challenge in our lifetime," said Coker, who is now 22.
She became an advocate for depression sufferers in her college campus' Active Minds chapter after being diagnosed with the disorder herself. Active Minds is a nonprofit organization dedicated to mental health for college students.
Coker has helped to screen about 5,000 students for depression, suicide risk and eating disorders, among others, according to the New York Post. She has also been a participant of Active Minds' #HugMore campaign, which promotes kindness.
BIEBER WEDDING BLOWOUT: WHAT IT WILL COST YOU TO RENT OUT A WHOLE RESORT LIKE JUSTIN AND HAILEY BIEBER
The work Coker has done in college won't go to waste: She intends to obtain a graduate degree in clinical social work.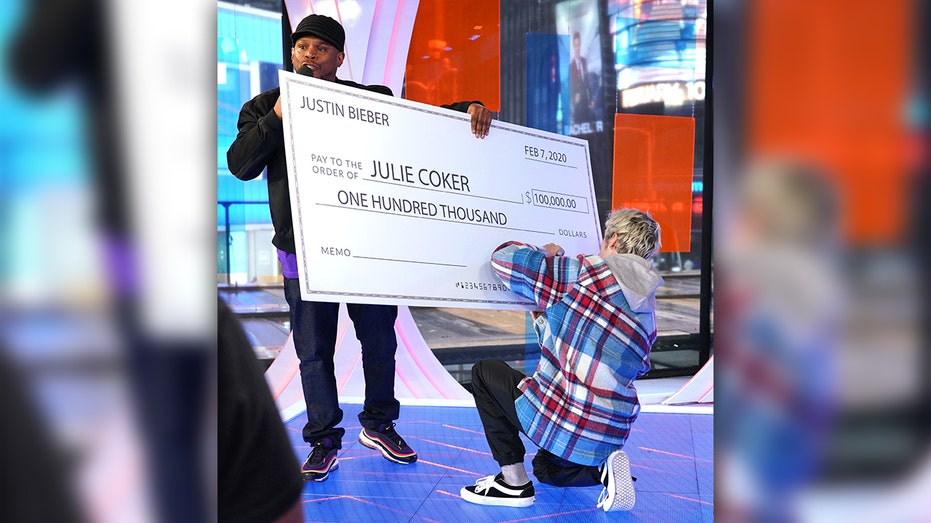 She believes Beiber has an influential voice on mental health issues himself.
GET FOX BUSINESS ON THE GO BY CLICKING HERE
The singer "has a big following, so if he has a good message about mental health, hopefully, everybody else . . . will want to start thinking about mental health in a different way," she said.
Bieber canceled his "Purpose" world tour in 2017 because of depression and exhaustion. His upcoming "Changes" album, which is set to release on Valentine's Day, is his first return to the music scene.
The Canadian artist isn't stopping with six-figure fan donations. Bieber has set up a $200,000 Intentions fund to benefit Alexandria's House, which will help the organization continue providing shelter and support for at-risk women and children.